Heads up, fraggers! You can now get your exclusive "Chicken Dinner" KFC Gamer Box with the latest KFC x PUBG Collaboration. 
With the crossover of the global fast food giant KFC and the global battle royale game sensation PlayerUnknown's Battlegrounds (PUBG), players can now get an actual "Winner Winner Chicken Dinner" both in-game and in real life!
"We are the pros when it comes to making the world's best finger lickin' good fried chicken and delivering on the taste you crave," said KFC Spokesperson Charmaine Bautista Pamintuan.
"Now PUBG: BATTLEGROUNDS and PUBG MOBILE fans can enjoy the iconic KFC taste like never before then dive into a battle royale and score big loot for a double taste of victory." 
KFC fans alongside PUBG: BATTLEGROUNDS and PUBG: MOBILE players can load up, grab their exclusive loot, and taste victory like no other!
'Winner Winner, Chicken Dinner' KFC Gamer Box 2023
Starting October 10 until November 20, the KFC x PUBG Collaboration is offering you exciting in-game loot when you get the KFC Gamer Box 2023.
The KFC Gamer Box includes a Jr. Original Snacker, box of fun shots, brownie, and regular iced tea for P210. 
Each meal has a FREE code where you can redeem exclusive surprises via their promo site. You can score a loot straight from The Colonel's kitchen, which includes up to 6 battle cosmetics in KFC's signature red and white brand colors.
Some KFC x PUBGM in-game items include:
KFC Royale Colonel Set
Royale Delight Top and Parachute
Seasoned Squad Graffiti
Crispy Crunch Avatar Frame
Immerse yourself with a PUBG-themed KFC Outlet!
Aside from exciting in-game treats, players can immerse themselves with the game at KFC's PUBG-themed branch in BGC, Taguig.
Upon entering the store, patrons are immediately transported into the world of PUBG MOBILE, with life-sized replicas of iconic in-game structures, such as the famous drop crate.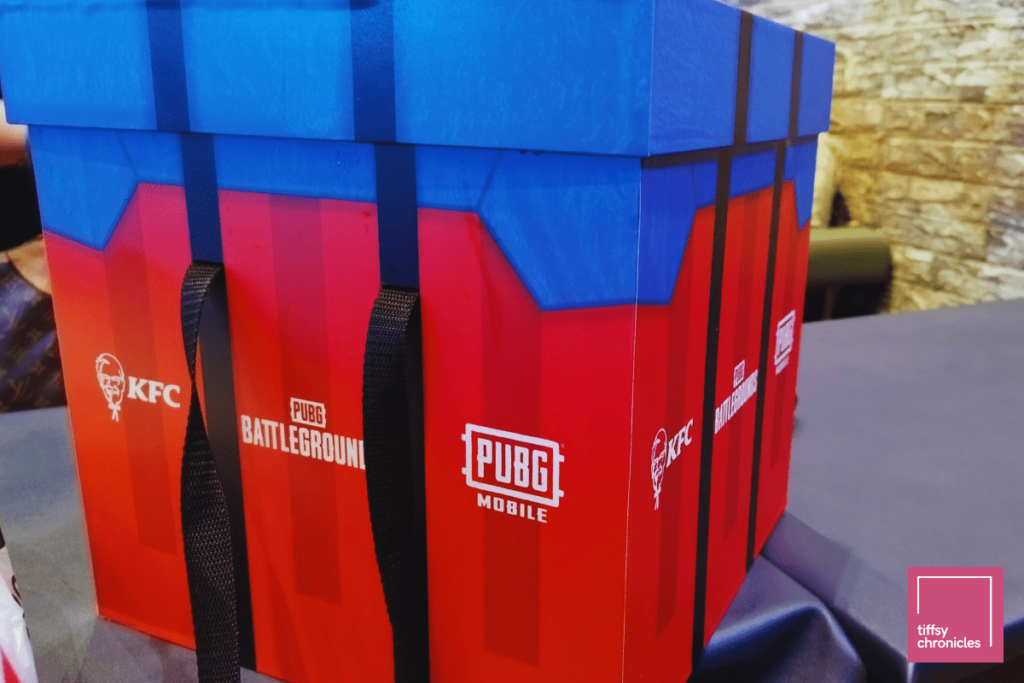 Diners can enjoy their KFC and PUBG MOBILE collaboration meal, the KFC GAMER BOX 2023 at tables designed to resemble the mobile game's environment.
"As one of the biggest mobile games in the world, PUBG MOBILE is committed to bringing quality gameplay to people on the move, just like KFC brings great food to people in thousands of locations globally. We can't wait for KFC customers to experience diving into PUBG MOBILE and securing that chicken dinner," said Vincent Wang, Head of PUBG MOBILE Publishing, Tencent Games.
You may visit their KFC Bonifacio Triangle located at 11th Street cor. 39th Street, BGC, Taguig to enjoy your KFC meals to have your ultimate PUBG dining experience.
"This partnership delivers an exhilarating gaming experience where players land, loot, and survive while enjoying exclusive cosmetics," said Taeseok Jang, Executive Producer of PUBG: BATTLEGROUNDS, PUBG STUDIOS. "It ensures that players savor a finger lickin' good taste of victory, perfectly blending the worlds of KFC and PUBG: BATTLEGROUNDS."
Grand Launch
Launching the event on October 27th, PUBG MOBILE and KFC prepared exciting events such as a show match between the public and members of the Philippines national esports team SIBOL. Five players playing against SIBOL won 2,500 worth of KFC GC and loot bags. There were also winners of 5,000, 10,000, and 15,000 worth of GC from KFC.
PUBG MOBILE enthusiasts were thrilled to meet and greet popular gaming influencers PaoLUL and Buunja, who had landed in the heart of the battle royale for a day of gaming and camaraderie. Other prominent personalities from the PUBG MOBILE community, including PAPA Kentot, Bela JOYCE, and Rochi joined in the fun as well.
Don't miss out on the fun and enjoy your KFC Gamer and order via Dine-in, through the KFC Website, the KFC PH App, or via delivery by calling their hotline 88-87-8888.
Did you get your KFC Gamer Box yet? Share your experience in the comments!