If you've missed the viral "Pink Drink" from Starbucks Philippines that landed on our shores last year, these refreshing drinks are back by popular demand!
Table of Contents
Starbucks Refreshers
Starbucks Refreshers includes various drinks to quench our thirst in the scorching heat that's taking over Metro Manila. The newly released drinks from Starbucks include two ice-blended and two iced drinks—including the two pink drinks everyone is raving about on social media.
Starbucks Refreshers for Summer 2023 include:
Strawberry Acai with Lemonade Refresher
Pink Drink with Strawberry Acai Refresher
Take a sip of the Starbucks Strawberry Refreshers to beat the scorching heat in the Metro. Savor the blend of fruits and sweetness from strawberry, acai, passion fruit, and lemon with the cooling effect of ice. You can even enjoy actual strawberry pieces floating in the concoction which keeps the tasty drink refreshing.
But did you know that you can make your pink drink? Here's how you can level up Starbucks Refreshers and have an alternative available whole year round!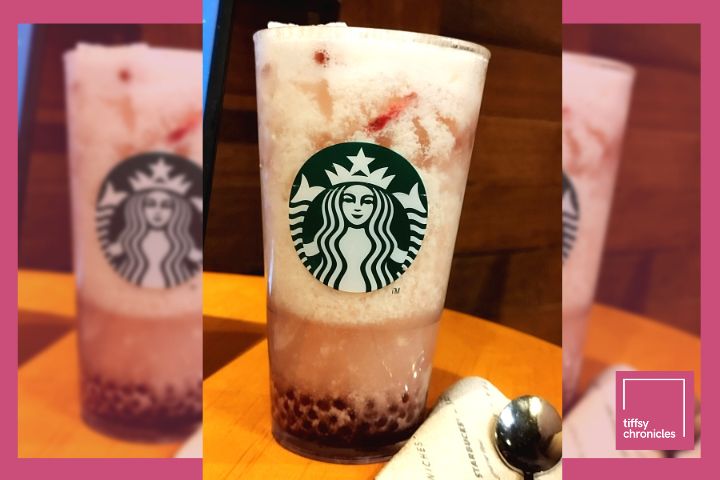 Add Heavy Cream + Pomegranate Pearls to your Starbucks Refresher!
My motto in life is to try new things (#YOLO) and as soon as Starbucks released the Pink Drinks again this year, of course, I immediately got myself the drinks. But I saw a hack on What's Your Ulam Pare? Facebook Community adding heavy cream and pomegranate pearls on drinks, and this hack won't let you down.
I added 2 pumps of heavy cream (for free) and add pomegranate pearls (30 PHP) to my order of Strawberry Acai with Lemonade Refresher, and I never looked back! The drink typically tastes like an elevated juice drink, a bit too sweet for my preference, but the citrusy taste of lemonade brings the balance. But, the heavy cream took the drink to the next level making it taste like a tarty and creamy strawberry drink!
TikTok Hack: Pink Drink Alternative
Iced Shaken Hibiscus
Tea with Pomegranate Pearls + Heavy Cream + Strawberry Sauce = Goodness!
Yes, the Starbucks Refresher itself has its charms, but it's only available for a limited time. Don't worry, you can still elevate that delicious drink. How? Add heavy cream, pomegranate pearls, and strawberry sauce!
This TikTok hack went viral after customizing the staple SB ingredients to recreate a similar Pinkish color but also offers an interesting taste and refreshing vibe just like the Starbucks Refreshers.
You can recreate a similar recipe using the Iced Shaken Hibiscus Tea with Pomegranate Pearls when you combine it with heavy cream + strawberry sauce that you can savor every day of the year. Since these three ingredients are a staple on the Starbucks menu, you can get your version of Pink Drink any time you want!
Your Starbucks order should look like this:
Starbucks Order
Iced Shaken Hibiscus Tea with Pomegranate Pearls (Venti) = 200 PHP
2 shots of Heavy Cream = Free!
1 pump of Strawberry Sauce = 30 PHP
When you order the Iced Shaken Hibiscus Tea with Pomegranate Pearls for Venti size, you only need to pay for additional Strawberry Sauce since the Heavy Cream is available at no additional cost.
Tiffsy Tip: Dealing with citrus and milk products may lead to some form of curdling, so always remember to stir your drink before sipping to best taste the flavors.
Enjoy Starbucks Refreshers and this Pink Drink alternative at your favorite Starbucks branches. For more information, check out Starbucks Philippines' Facebook Page.
Featured Photo courtesy of Starbucks PH
Which Starbucks Refresher is your favorite? Share them with us in the comments!