How I Ended Up Writing and Why I Started Blogging
Why I started blogging? The satisfaction of sharing new information and ideas about the world with many people has cemented my aspiration to be a person who shares stories for a living.
Expressing myself in writing has never been an easy task.
You would think that I was practically a human shopping channel because I could talk about many things non-stop. While I'm a blabbermouth for most of my life, I'm not skilled in writing from the get-go.
The best writing that I could have sworn I wrote was my heartfelt love letters to former crushes when I was 15 years old. It was literally like Lara Jean in "To All The Boys I've Loved Before," except some of my letters reached their recipients and I never ended up with any of them. (Yes, I'll take the L on this one.)
Back then, I was more into crunching numbers and Newton's laws of motion, and most of my school life actually revolved around math and science. Writing was never really in the equation.
Storytelling and the quest for new learnings
But there's one thing that made me want to pursue writing: Storytelling.
In my younger years, I've always loved to listen to bedtime stories, hear blind items on the radio, and watch interesting TV shows and movies. I have always been invested in documentaries and features about people and how things were made.
I find myself sitting in front of our TV, waiting for my favorite shows to air every day growing up. I was a kid who grew up in constant pursuit of stories, and my insatiable hunger for knowledge has made me realize that there are so many stories in the world, each waiting to be told, and how nice it would be if I were the one to share them.
The satisfaction of sharing new information and ideas about the world with many people has cemented my aspiration to be a person who shares stories for a living.
Journaling to Journalism
In fifth grade, my Filipino teacher asked us to have a diary and write about our everyday life for the whole school year. I really loved that project. It was the first time I really valued writing aside from taking notes because I was looking forward to writing in my diary almost every day.
My hobby of chronicling my life has grown into an interest in writing about non-existent people's lives, so I started to write fiction in my high school notebooks while still continuing to write in my personal journal.
I filled notebook after notebook with fictional stories, inviting my friends to read and also critique my writing. I even put empty pages so they can write their comments about it. It was around 2010 and Facebook was just starting to become relevant in the Philippines. Remember the days when you just went online for Facebook's Farmville or Pet Society? And comment sections are only like chaotic chat boxes instead of a cesspool of trolls and toxicity.
And with writing comes reading. Aside from the textbooks, almanacs, and encyclopedias, my scope has widened into fiction and non-fiction stories.
I realized that writing is not only about the output, but it's also about the knowledge you put into your brain so you have more material you can write about.
As a teenager, I became a Hallyu fangirl, binge-watcher of anime series, and devoted reader of romance novels from Filipino Pocketbooks. (Shoutout to my Stallion Island Boys and Billionaire Boys Club from Precious Hearts Romance Books. IYKYK lol).
I've come to love Bob Ong and the Philippine Literature writers whose works are published in our textbooks. I also became a fan of the broadcast journalist Jessica Soho, who was never afraid to report news in her previous coverage of Afghanistan and a bomb took off near her reporting site.
At 16, I was left to decide on a career that will change the rest of my life forever. (I don't know what the adults are thinking while assigning 16-year-old kids to make a life-changing decision.) Fortunately, I was given the liberty to choose my own path.
I could've been better off if I chose a course around Math or Science since those subjects were my forte, but I chose to take Journalism.
I can't believe I took it knowing that I have zero knowledge of news writing (my high school didn't have a school paper), I just know how to write essays that can BS my way to passing, and the only experience I've got is writing in my diary and writing fiction on my notebooks.
I was naïve, and I was a fool…but I was a blank canvas.
Diving head-first into uncharted waters
Back then, I felt liberated, but at the same time, it was also daunting, since I am diving head-first into uncharted waters.
I foolishly believed that what I needed was to strengthen my weaknesses in order to become a well-rounded person. My weakness was my language skills so I thought it was going to be simply improving my skills.
And because I took the plunge without any idea about the course, I was devoured by Cthulhu (and Cthulhu is Journalism.)
In my first year, I even thought of shifting courses, and on many occasions, at the verge of giving up. I couldn't help but think that I was inferior to my batchmates since I don't really have the school paper experience many of them had. I was always two steps behind in writing, and at some points, I can't even produce a decent 500-word article after hours of staring at my laptop screen.
Writing has never been an easy task, but at least I got better at it.
Miraculously, years later, writing (in whatever type it may be) has become part of my system and is both a hobby and a profession.
The brilliant National Artist Ricky Lee echoes what most writers think about writing. "Writing can be hard, but not writing anything at all is a whole lot harder."
Writing is an integral part of my system I think I can't live without. It is my serendipity as it is my therapy. I need writing like I need oxygen. I never forget to bring a pen and a small notebook to jot down ideas. It helps me get by every day without losing my sanity with everything happening in my life.
I might not be eloquent and keen enough to weave words like Shakespeare or Neruda meticulously, but I can still try. I may not be an expert in world-building like Tolkien, Lewis, Rowling, or Riordan, but I have all the time in the world to do it.
Aristotle and James Clear (author of "Atomic Habits") are probably patting me on the back because my habit of writing paid off and it will just continuously improve as long as I keep on doing it.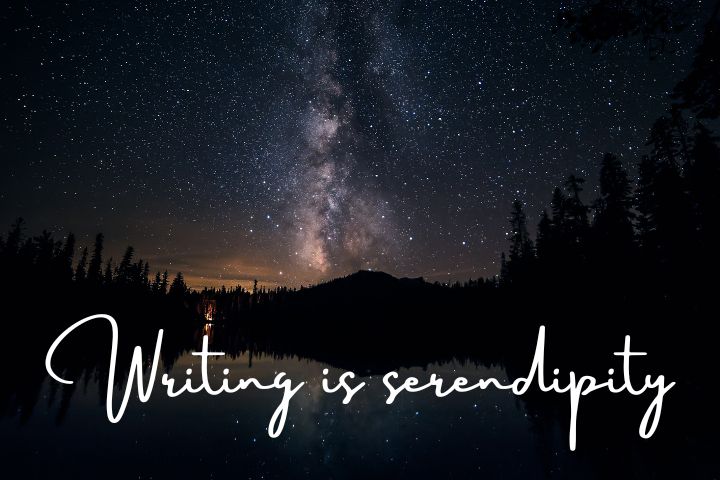 The opportunity to know and share stories with people has always been a dream for me. Writing made it come true, and sharing those interesting stories with the world made me want to start blogging.
Fortunately, I exited my university with a Journalism degree, which opened doors to writing opportunities and new experiences. I started as a researcher for lifestyle shows on CNN Philippines as an intern, and I worked with many brilliant people in the industry.
I also explored being a writer and photographer contributor at When In Manila which led me to join a startup media website called Manila Insider. Since then, I have contributed articles to various online media websites like Meg Magazine, Korea.net, and The Post, among others, as well as blog content to global company websites across industries.
I'm grateful for the opportunities to work with various local and multinational brands that I didn't imagine I could collaborate with someday.
Blogging provides another avenue for storytellers to freely share their ideas with the world. It has provided a great opportunity to be heard by a much larger audience. Bloggers tell stories from a variety of topics and perspectives.
Starting Tiffsy Chronicles is going to be an exciting adventure filled with stories from the bustling streets of Metro Manila. Hope you will support me on my new journey!

Check out Tiffsy Chronicles on Facebook, Twitter, Instagram, and TikTok